Many organisations are under pressure. This is taking a toll on leaders and team members alike. As a CEO or senior executive, the key is what to do about it.
At a recent CE CLASS, visible leadership was on every CEO's to-do list. Visible leadership is about prioritising the value of getting out into the business and engaging with teams in an authentic way. Given all our CEOs led businesses with a national or Australasian footprint, this was a significant face-to-face commitment.
And they did. The results were immediate.  All CEOs reported a number of significant positive benefits. They included:
The time taken by the CEO was appreciated and motivating. 
The CEO's understanding of the day-to-day business challenges increased. 
Some issues that had been unresolved were resolved quickly.  
Staff were heard. This deepened the connection of the CEOs to the organisation.
CEOs were able to communicate first-hand, in person and it was a two-way conversation.  
CEOs were able to celebrate personal and team achievements first-hand. 
The CEO's own Mojo was boosted. 
These benefits didn't just happen. There were four keys to success – creating time to be visible, being present, maintaining mojo and focusing only on the true priorities.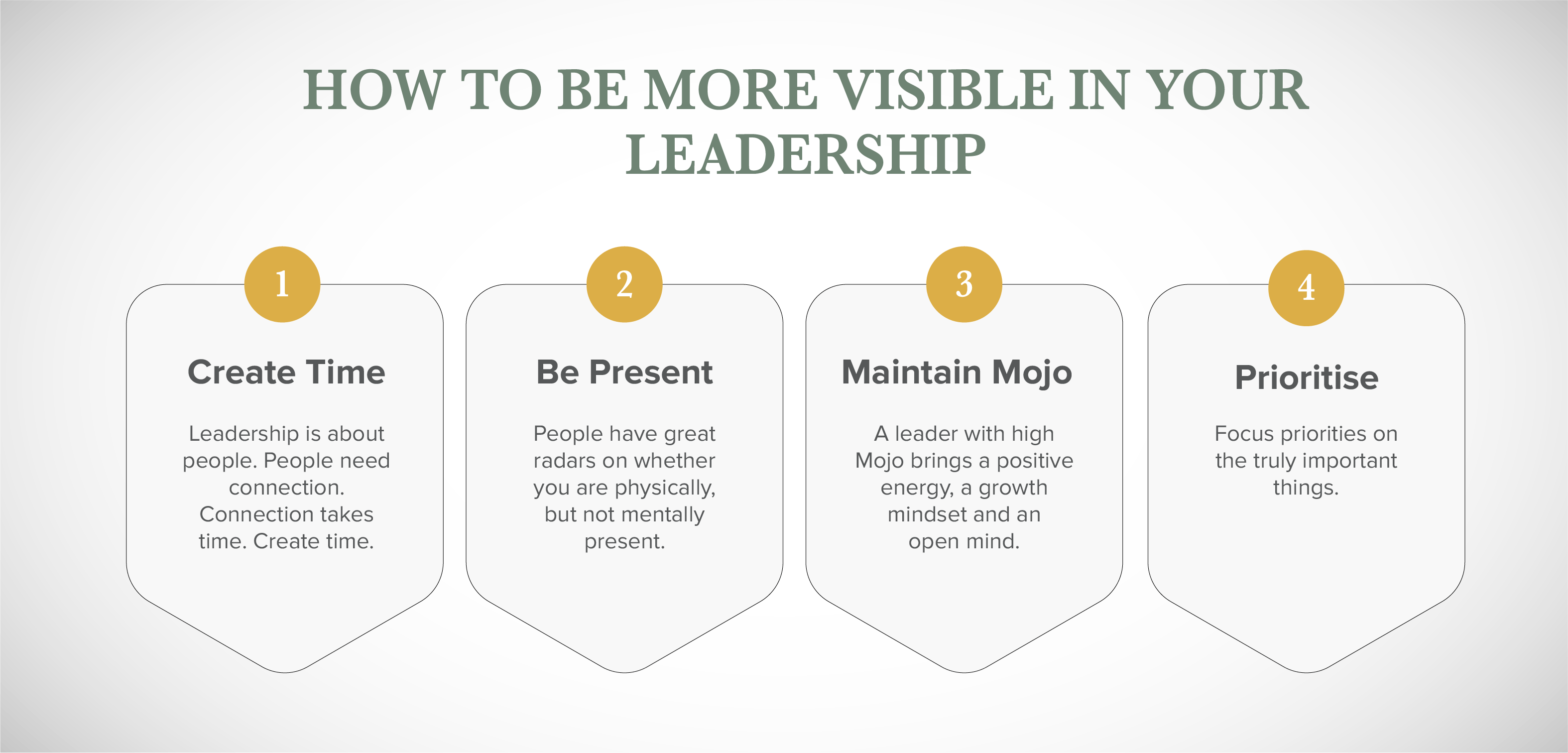 Create time: it is easy to say you don't have time. Do you really need to be at every meeting you currently have in your diary? Is every meeting as focused and productive as it could be?  Do all your meetings have a clear purpose? How many decisions are you making that others are perfectly capable of making?  Are you a decision-making bottleneck that could be liberated? How often have you gone away or been sick, only to find the organisation operated perfectly well without you being there?  Are you answering every question you are asked or empowering those who report to you to think through solutions to problems?  Leadership is about people. People need connection. Connection takes time. Create time.  
Be present: when engaging with others, be where your feet are. Listen to understand. Ask questions. Actively listen to the answers. Observe. What do you notice? Do people have your full attention? It is said that one of Nelson Mandela's strengths was that he would always pour a cup of tea for those he was meeting with. He was present. He made the person he was engaging with feel like they were the only person that mattered at that moment. People have great radars on whether you are physically, but not mentally present.
Maintain Mojo: Mojo is a term we have adopted to encapsulate leadership energy, vitality and wellness. A leader with high Mojo brings a positive energy, a growth mindset and an open mind. High Mojo leaders are more present. The opposite is true for leaders with low Mojo who are feeling negative, stressed and exhausted. The positive impact of visible leadership is quickly undone if the leader has low Mojo. Exercise, balance, rejuvenating sleep, good nutrition, staying hydrated, healthy weight, manageable stress, work aligned with values, a sense of meaningful purpose, and positive relationships are all drivers of positive Mojo.  
Focus only on the true priorities: I asked a highly visible leader of a large organisation under enormous pressure how they got their organisation through. Paraphrasing, "…there are 100 things we could be doing, of those 10 things are priorities and, of those, 3 are true priorities right now. We focus on the true priorities.  The rest can wait." I know another CEO who was leading an ambitious work programme who, through being visible and truly connected, fully appreciated the unsustainable impact it was having on their people. With the support of the Board, all deadlines were shifted back three months and additional leave was provided over the Christmas/New Year period for people to refresh. The organisation successfully delivered. Not everything needs to be done 'now', just the truly important things. Clearly and consistently communicate what these are.
There is a reason we like to see our leaders on the ground. We expect it. We take confidence from it. We feel listened to. We feel understood. It informs action.
Visible leadership not only brings connection and confidence, but it can also be the key to CEOs and senior executives understanding the right things to be focussing on at the right time, removing roadblocks to productivity that need to be removed and empowering people to create their own solutions to the challenges they are leaning into.